The Anime Iowa Anime Marketplace is the place to go for one stop shopping. Located in the exhibit hall of the Coralville Hyatt, the Marketplace is home to The Merchants' Market, The Artists' Alley, Staff Art, and the Hyatt Concessions.
The room is open to all registered attendees and 1 day wrist bands for shopping, snacking and browsing on these days and times:
*The Marketplace opens 1/2 hour earlier each day for: Anime Iowa Sponsors, Off Duty Staff, Attendees with Mobility Disabilities (special signifier required), Active Military and Veterans (ID Required)
Vending at Anime Iowa
Are you a vendor or artist looking to be a part of our Anime Iowa's Anime Marketplace or the Artists Alley? Follow the link here for more information about signing up for this year's convention.
Information for Merchants and Artists wishing to vend at Anime Iowa  
Attendees Shopping Experience in the Anime Iowa Anime Marketplace and Artists Alley
---
Marketplace Merchants
Looking for the newest in merchandise? The Marketplace merchants are small versions of retail shops and one or more of them should have just what you are looking for. From blu-rays of the newest anime series to hit the western shores – to figurines, manga, and accessories. Even the most discriminating shopper will walk out satisfied.
The culture of the Far East is inspiring and so is the merchandise inspired by Japan and the surrounding countries. You will find home décor, accessories, and clothing to beautify your home and add spark to your wardrobe.
And if your taste doesn't stop with Asian influences, there are retailers in all kinds of gaming, steampunk, furry, chainmail, Lolita and more.
Artists Alley
Unlike back alley's an Artists Alley is a treasure of talent more suited to a spring field setting from a popular anime. Beautiful creations abound in the many stalls where artists share their inspirations with those who visit them. Here you can purchase art ready to go or commission something special just for you.
Hand and digital art influenced by Anime series new and vintage, Manga, Video games, RPG's, Asian culture and more. Artists craft pieces from a variety of medium and the finished products are truly one of a kind. Paint, stitch, bend, fold, sculpt, adhere, burn – and in the end something that you must have.
FanMarket and Staff Art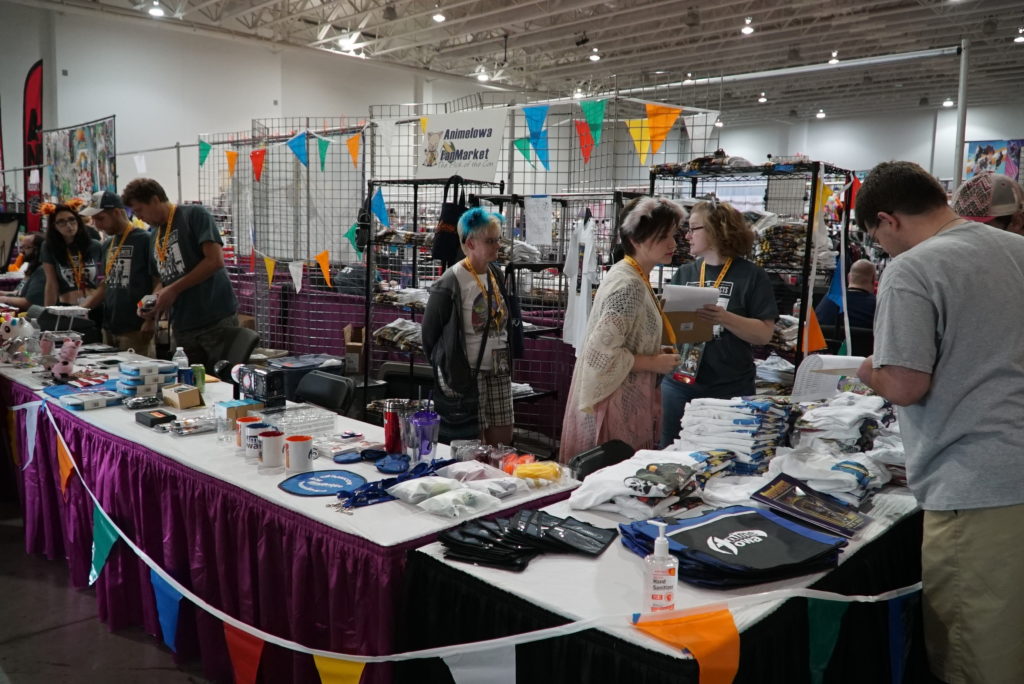 AnimeIowa brand merchandise is sold at our very own AnimeIowa FanMarket. We have the pick of the con for all things AI and our mascot Buu Chan – the cosplaying pig.
Mugs, totes, shot glasses, and plush are just some of the swag you can snag and enjoy year-round.
Every year attendees look forward to seeing our unique convention t-shirt. We also sell items created by our talented staff members. They are all very busy during the convention and do not have the time to run a booth, so we do it for them. Items created by our staffers are on display and for sale.
Who would ever want to leave empty handed?