AnimeIowa 2024 will take place on July 26th – 28th, 2024
the theme will be Studio Pigli

About
Anime Iowa is a 3 day convention held in late July each year. Anime fans come together for panels, events, the Marketplace, cosplay Masquerade and more. Our programming department centers around Anime and Japanese culture; but we are all inclusive and welcome fans of comic books, science fiction, steam punk and more.
Anime Iowa was the first anime convention held in the Midwest, The longest running in Iowa celebrating 27 years, the largest Anime convention currently held in Iowa; we have hosted over 3,000 attendees on average and up to 3,500+. The convention is under the umbrella of the not-for-profit Mindbridge Foundation The convention offers anime screenings, a videogame room, anime marketplace, guest panels, cosplay, and many of other events. Anime Iowa 2023 will be held from July 28th through the 30th.
Coralville has been our home for most of those years. The name of the hotel may have changed, but the staff is still friendly and enjoy having us there as much as we enjoy holding Anime Iowa there.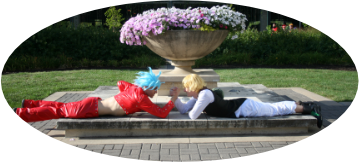 The front gardens and back patio are perfect for photoshoots, or just pictures to remember the weekend.

You never know who you may run into walking the Hallways of the Event space. All family friendly cosplays are included at Anime Iowa. You may run into Youki or even a TV how to artist, you really never know.